Unlock your potential, access your best work
Our purpose is more important than ever as we work together to create a better world of work.

At Rockworth, creating a satisfyingly efficient workplace in which people can cultivate their potential is at the heart of what we do. Because we know that an inspiring workspaces is important both for employee well-bing and organization performance. Our focus is sustainable products that help people to work better and learn better.

Rockworth is about people, driven by purpose. We believer that an inspiring workspace increase the joy of work, comfort, wellbeing and productivity.

We design and create furniture for the modern workspace, with the needs of employee in mind. We offer a variety of modern, durable and functional solutions. Our products are designed to serve the needs of people at work that supports a better ways of working, collaboration and socializing. Every working day.
We understand that, a successful organization requires a harmonious integration between Human, Space and Technology. At Rockworth's design center, we focus upon core themes that we believe are pivotal to the effective product and special design solutions, and deliver workspace that connect Human, Space and Technology.
We understand that the importance of an aesthetically pleasant workplace will promote satisfaction that subsequently increases work performance. Hence, our products are cleverly designed as a response to user needs by focusing on Design and Function, Comfort, Safety, and Ergonomics.
Productive workspace Rising real estate cost is a major concern for every organization. Therefore, it is essential to maximize your productive workspace whilst minimizing floor space. We can help you understand your space and how to get the best from it, from developing versatile layout plans to the careful selection of furniture.
The business world is developing so rapidly that a minor technological change can affect the style of work and even the whole business structure. It is our job to keep up with these changes and produce office furniture that not only supports  new technologies but also amplifies work efficiency.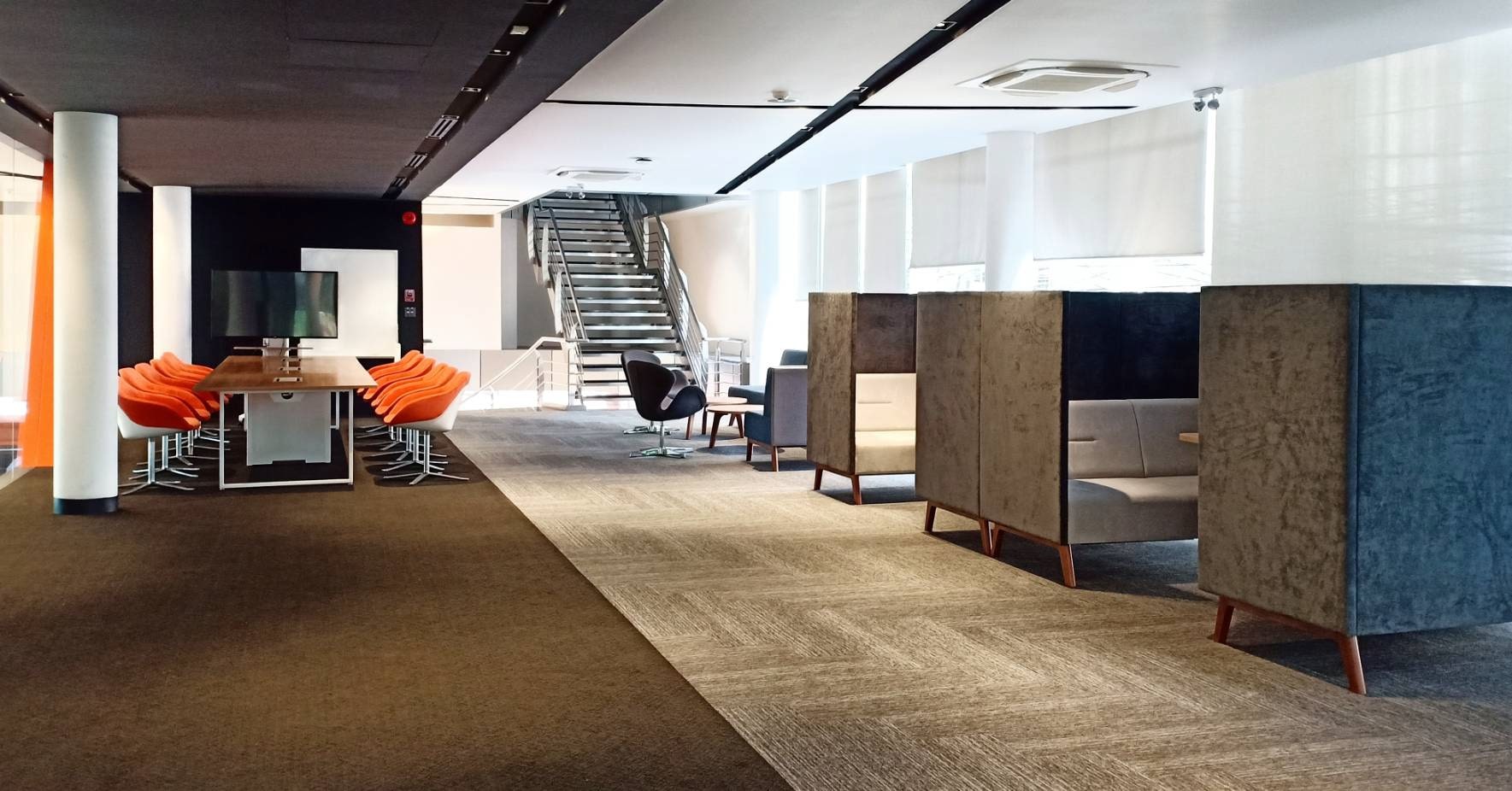 Our teams work together to create a better world of work, every day.
If you want to make a difference to the way people work, view available position
VISION

As a producer of fine Office Furniture,
our company's vision is consistently creating a satisfyingly efficient workplace in which people can cultivate their potential'. This is achieved through the following

• The versatility of our product.
• Innovative design that is flexible in concept to meet a variety of installation needs.


MISSION
Our Philosophy Becomes Our Business Goal.
To produce Office Systems Furniture that helps people discover their true potential.


VALUES
We believe that hard work pays off, and after 45 years in business our proven track record is something we are incredibly proud of.

Accomplished — "Rockworth is a company I can trust to consistently deliver great quality product solutions, at a competitive price."
Strong — "We build perfect partners to maximize your performance."
Collaborative — "Rockworth understand the essence of working as a team, consistently helping us to transform our office space, bringing our concepts to life."
Imaginative — Beautiful design meets practical functionality. "A lively office atmosphere is a key factor in motivating employee behavior, improving employee satisfaction and increasing loyalty and morale."
Dynamic — We are constantly moving forward, working with our partners across the globe to bring our clients the latest in office space solutions, quality products and responsive customer service.
Rockworth Public Company Limited is Thailand's leading manufacturer, distributor and marketer of quality Office Systems Furniture.


Established since 1972 to meet the emerging demands of companies in need of specialist design and superior quality in office furniture, the Rockworth name has since become recognized and respected throughout the region, famous for everything from design concepts to after-sales service. The company now has more than 700 dedicated employees and serves clients through a global network of authorized dealers in 22 countries.
OUR COMMITMENT
we understand the difference of steps toward the sustainable organization, and realize that we can only achieve this by working together with everyone in our company. in order to achieve our goals we have implemented an environmental management system based on the iso standard, which allows for a comprehensive approach to ecology.
REGULATORY COMPLIANCE ——- We resolve to comply with or exceed all local regulations, as well as our own internal policies to maintain a high degree of ethical and operational standards.
MANAGEMENT SYSTEMS ——- The dependability and strength of our sustainability commitment and our internal systems guide us to make sound management choices and enable us to operate as one of industry leaders in the region, achieving incident-free performance.
PRODUCTS AND ITS MATERIALS ——- We choose materials with the highest possible recycled content and well-established recycling streams so that we can use closed loop systems wherever possible. Our table tops are manufactured using 95% recycled material. We try to keep to an absolute minimum our use of products containing any volatile organic compounds (VOCs) or potentially toxic substances, giving preference to board product with the lowest emissions, naturally flame retardant fabrics. Our products are bound with a solvent free binder and all with Indoor Air Quality certified. We will always opt for the least harmful material, process and finish to help protect indoor air quality, people and planet.
WASTE MANAGEMENT ——- We design products to last and offer replacement parts wherever possible. Several of our ranges can be refurbished with new components; table tops, upholstery covers or bases, to extend their life in use multiple times. We always design for ease of disassembly so that individual materials may be separated for recycling or composting and return to their respective material cycle.
HAZARD IDENTIFICATION AND CONTROL ——- We are committed to systematically identifying potential hazards and taking the appropriate approach to formulating solutions that prevent, eliminate, or control hazards and exposures that may jeopardize employee safety and/or the environment.  Where expertise is not available within Rockworth, we will seek the guidance and expertise of external specialists.
PEOPLE ——- We encourage each associate to take ownership of and contribute to the continuous strengthening of Rockworth's safety and environmental programs.
Certificates & International Standards
ISO 9001: 2015
Specific requirements for a quality management system within an organization.
ISO 14001: 2015
Gives the requirements for environmental management systems, confirms its global relevance for organizations wishing to operate in an environmentally sustainable manner.
ISO 45001: 2018
Occupational health and safety management system
Provides organizations with the elements of an effective safety management system which can be integrated with other management systems and help organizations achieve better occupational health and safety performance and economic objectives.
ISO 50001: 2018
Energy management system:
Makes it easier for organizations to integrate energy management into their overall efforts to improve quality and environmental management.
ANSI/BIFMA The Business and Institution Furniture Manufacturer's Association from American National Standards Institute.
SCS INDOOR AIR QUALITY
Certify to the most transparent Indoor Air Quality (IAQ) standard for furniture and building materials with Indoor Advantage and Indoor Advantage Gold.
LEADERSHIP IN ENERGY AND ENVIRONMENT 
Based on accepted energy and environmental principles and strikes a balance between known established practices and emerging concepts.
INDIAN BUILDING COUNCIL MEMBER
USGBC is best known for its development of the Leadership in Energy and Environmental Design (LEED) green building rating systems.